Superior products. Superior processes. Superior service.
And that's... just the beginning.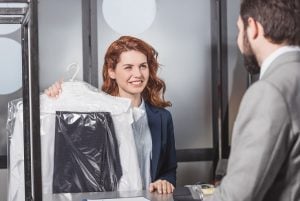 Every day there are hundreds of ways Sanitone helps make our licensees the most successful drycleaners in their regions. But the most important competitive advantage we give our licensees is the ability to deliver premium quality, consistent cleaning every single time. Customers can see the difference in the quality they get from a Sanitone Certified Master Drycleaner®, and that keeps them coming back. Consistent, unsurpassed quality is the secret to Sanitone's success, but it's not the whole picture. As a Sanitone Certified Master Drycleaner, you get so much more.
Simplest Process
Whether drycleaning, laundry or wetcleaning, a certified Sanitone representative will program your machines, giving you the best, most effective process available. You'll spend less time training employees and more time generating perfectly cleaned garments. Our precise systems eliminate the need for general prespotting or premeasuring products. Detergents and ancillary products are automatically injected and equipment is preprogrammed for uninterrupted work flow and consistent high quality of all processed items.
Environmentally Safe
You'll have fewer damage claims because the Sanitone process requires less prespotting and is proven safe for all types of "dryclean only" fabrics. Clothes are left feeling soft and smelling fresh. Colors stay vibrant. And customers remain satisfied and loyal. The Sanitone system is also safe for the environment. Sanitone products are made using natural renewable resources and is safe for your employees.
Superior Results
Whether it's drycleaning, wetcleaning or shirt laundry, Sanitone gives your customers the best cleaning money can buy. For example, our Platinum® Shirt Laundry detergent delivers the brightest, whitest shirts with no collar scrubbing, no starch build up and less shrinkage giving your customers a better looking and longer lasting shirt. No one else in the industry can match Sanitone's decades of experience and exclusive precision process. That's why Sanitone is trusted.
Technical Support
Sanitone provides on-site inspection to ensure your operation is running at top efficiency. Our Technical Representatives strive to develop excellent working relationships to make sure your business gets the maximum benefits of the Sanitone license program. You also have toll-free access to our top people at headquarters who are available to assist you in any way possible. Plus, our websites at sanitone.com and sanitonedirect.com provide 24/7 access to technical information, product facts, promotional tools and product ordering.
Networking
As a Sanitone licensee, you join a growing group of the most successful drycleaners in the industry today. You'll enjoy the benefits of networking with fellow Sanitone users sharing ideas for success. Periodic seminars are held for "Sanitone licensees only" to share the newest trends and encourage group interaction and networking. Plus with Sanitone's exclusive marks, your business is associated with the best drycleaners in the world, helping you distinguish your brand from your competitors.
Advertising
Sanitone also helps you build sales volume and boost your profits by providing professional advertising materials not available to other drycleaners. Leading clothing designers trust our cleaning process. We provide a large selection of advertising materials such as postcards, mailers, door hangers, emails, social media advertising, stuffers and more – all customized to meet your needs.
Full Line of Products
For more than 85 years, Sanitone has been the worldwide industry leader in developing products and procedures for the drycleaning industry. Today, our product line covers all phases of a cleaner's operation: drycleaning, laundry, wetcleaning and restoration.
Drycleaning detergents for solvent types including Perc, hydrocarbon and other alternative solvents
Sizing and finishing products
Wetcleaning and Shirt Laundry detergents
Spotting agents for stain removal
Competitive Advantage
As a Sanitone Certifed Master Drycleaner, you will enjoy the benefits of the previous seven reasons. But the best reason to be a Licensee is the competitive advantage. Selective territory, signage rights, advertising and promotional tools, direct sales/service representatives, and the best products and processes in the industry ensure your customers trust you and keep coming back. Contact us to find out why the most successful cleaners are Sanitone Certified Master Drycleaners.
More Questions?
See our detailed FAQ sections here: